Hiring a Costume or Buying a Costume - Which is Better?
Author: belinda Date Posted:30 June 2016
I opened the Sunday papers this morning to a feature article (double page spread no less!) on the rise and rise of "rent-preneurs", who, according to Melissa Singer at the Sun Herald, offer customers, "The fashion equivalent of a Ferrari for one night only".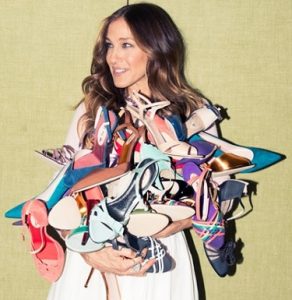 The article opened with a reference to the scene in Sex & the City where Sarah Jessica Parkers' character Carrie Bradshaw, realises she can never become an apartment owner in the big apple because she's spent $40,000 on shoes! So for women who want to simultaneously meet their financial goals AND feed their fashion addiction (which let's face it is all of us!) there's now a new and growing breed of high-fashion, designer label "rent-preneurs", offering designer label dresses for a night, for a fraction of their retail price.
Fancy Dress Lovers are the Real Rent-Preneurs!
Fancy dress costume hire has long been a "go-to" for party-goers seeking to make an impression at their next themed corporate-do or must-attend party, because the one-off nature of hiring a costume allows them the luxury of wearing what they want to wear, without necessarily having to make room in their wardrobe for that gorilla suit or saucy little burlesque number (which let's face it, they're unlikely to wear again!). Yet the costume industry as a whole is undoubtedly changing, impacted by a dearth of online players who attempt to hijack the casual Google-r with misinformation about how "Buying a costume is cheaper than hiring!".
You Can't Compare Apples with Oranges
The amount of bonafide costume hire businesses operating in Sydney is rapidly diminishing, as their owners – frequently older, professionally trained costumiers – decide to simply close their doors once and for all, without ever realising that they can actually compete against the on-line only costume sales juggernaut, and carve out a profitable niche for themselves by meeting a very real customer need. And that is by offering a wide selection of high quality costumes at an affordable price, and giving actual, honest-to-goodness, personalised, CUSTOMER SERVICE (Try getting that online!)
Fancy That! Costumes in Crows Nest - which will have been a costume hire specialist for 30 years come 2017 - has recently relocated just up the Pacific Highway to premises 2.5 times larger than its home for the previous 10 years. And whilst our new premises enable us to offer an expanded retail range on the ground floor (for those who wish to buy a costume or costume accessory), we remain firmly committed to being the best costume hire service in Sydney. This has long been our 'bread and butter', and we pride ourselves on giving the best service you're ever likely to get, short of running the shop yourself!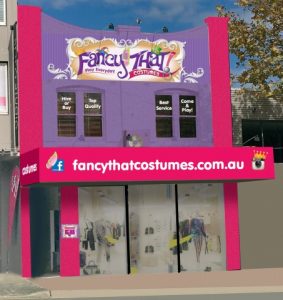 So Why Hire a Fancy Dress Costume?
Because you want significantly better value for money than an online purchase can provide, and a guarantee of quality.
At Fancy That! Costumes in Crows Nest, you can hire:
An authentic, licenced, Grand Heritage Batman costume for $150 – or spend over $800 to purchase it from one of Australia's leading online only sales sites.
An officially licenced, Avengers Captain America Elite Adult Costume – including shield, boots and all accessories – for $120 – or spend over $400 to purchase it online.
A range of deluxe beaded flapper dresses, individually hand-beaded in the same studios as the costumes from the Oscar-winning movie, "The Artist" – from $135 - $155 – or spend over $450 to assemble these looks yourself.
A range of mascot animal costumes for $99 each – or spend over $400 to purchase one yourself.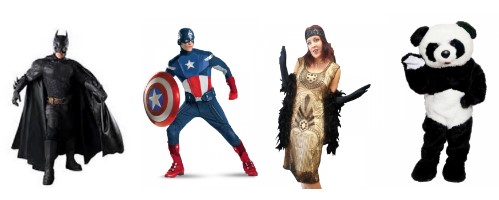 Because you want to stand out in a one-off original.
Let's face it – you're unlikely to be invited to an event with the exact same theme anytime soon. And if you were, you'd be highly unlikely to want to appear in the exact same outfit. As the recently retired Costumier Andrew Monaghan (formerly of The Costume House, Gladesville and Castle Hill) maintains – "This is Sydney, darling – do what the beautiful people do and be styled in a hand-made original!"
At Fancy That! Costumes, you can hire:
A range of stunning, hand-made satin French Can-Can dresses with sumptuous frilled skirting and a range of glorious accessories including matching, hand-sewn and feathered bonnets, chokers and elbow length satin gloves, for $99 – a tiny fraction of the cost it took to craft these costumes.
A range of one-off, handcrafted Halloween costumes including a luxe floor length Cruella gown, scarily imposing Human Spiderweb, Egyptian inspired Succubus and a fabulous Cousin Itt that's remarkably easy to wear (we're yet to find one like it anywhere!).
Realistic, weathered pirate costumes that have featured in stage productions of Pirates of Penzance.
And many, many more costumes besides...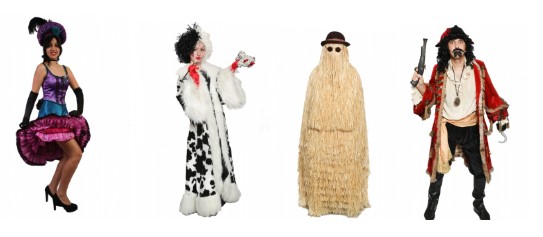 Because you value the service and advice that only a trained stylist can provide.
The most frequent statement we hear at Fancy That! Costumes is – "The theme is xyz – the party is tonight – and I've got no idea what to wear!".
A trained stylist will ask questions first: is it a work or private event? Indoors or outdoors? How do you want to feel in your costume? Are there any parts of your body you'd like to conceal or feature? Are you looking to win "best dressed", or do you just want to show you've made an effort to get 'on-theme?'. They'll then present you with options to match your requirements (including many thematic suggestions you may never have thought of yourself), to really add to your enjoyment of the event you're attending.
Because you haven't got time to waste!
At Fancy That! Costumes, 70% of our costume hires happen Thursday to Saturday each week; with our largest trading day being (of course) Saturday. People look forward to their fancy dress parties, however the pace of modern life often makes it difficult for them to plan ahead. And when you've left it to the last minute, you really need to get it right first time.
Luckily the Fancy That! Costumes store at 388 Pacific Highway Crows Nest is open until 8 pm Thursdays, 6 pm Fridays and 10 – 4 pm Saturdays. Whilst of course our website is open 24/7 for amazing costume ideas and inspiration! And if you can't come to us, we can come to you, with a same day courier service for the greater Sydney metro area.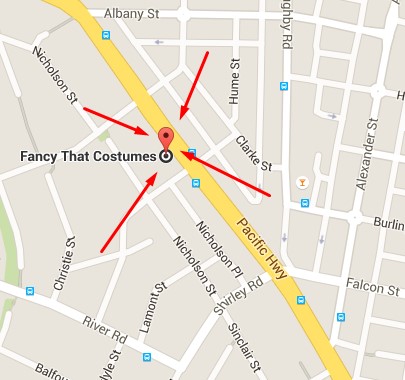 Hire a Costume or Buy a Costume - We Do it With LOVE!
At Fancy That! Costumes, we're not against the growth of online packet costume suppliers. We've even included a whole floor of carefully curated packet costumes and accessories at our new expanded premises - with same day Sydney-based or next-day Australia wide delivery – for those people who fear potentially damaging a hire costume, will be travelling and unable to return it, or just want to pick up some accessories to get 'on theme'. What we are against, are those businesses falsely advertising services they don't deliver and falsely presenting an "apples with oranges" comparison.
But mostly, we're FOR continuing to run a service-based business that you're going to want to come back to again and again. Ultimately, we're in a people business. And lucky for us we LOVE the face to face contact we have with our customers and really appreciate the fact that you continue to entrust us to advise you on your special occasions. We LOVE handmade artistry, vintage and originality and we're SUPER EXCITED to be keeping the magic of costuming alive today, and well into the future!
Belinda x