Get a Halloween Plan, Man!
Author: belinda Date Posted:13 October 2015
It's coming, like the Zombie Apocalypse - lurching down the road towards you with its rotting limbs & decomposing flesh: Saturday October 31st - the best Halloween party night you're going to experience for 7 years!
But you know what they say: failure to plan is planning to sit on your couch in your pyjamas, fending off pesky trick-or-treaters all night & ingesting way too many lollies...
SO: in the interest of saving you from such a horror scenario, Fancy That! have curated the following list of frighteningly fabulous events about town, so you can get your freak on (in fancy dress costume of course) in the best possible way!
There's something for all ages in the listings below - so go on! Get out there & have a screamingly good time! BUT - don't forget to visit www.fancythatcostumes.com.au first to ensure you look the part.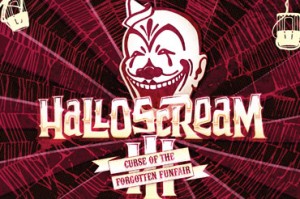 Halloscreamreturns in 2015 to transform Luna Park, Sydney into an abandoned amusement park with Halloscream III: Curse of the Forgotten Funfair!
There'll be spine-chilling fun for all ages during the day, plus an 18+ event - The Afterlife Party - from 8pm - Midnight, with DJs & circus performers inside the Big Top! Click herefor info & tickets.

Looking to do some awesome good whilst having a ball this Halloween? Register for Our Joint - a world-record attempt at the largest gathering of skeletons: score a free skeleton onesie with your registration, get your name in the record books & help support the vital work of the Arthritis & Osteoporosis NSW - it's a triple win! Click here for info & to register.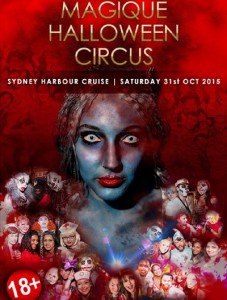 What do you get when you pack 900 people onto one of Sydney's best party boats, in compulsory fancy dress (no costume = no entry), with some of the best magicians & burlesque artists in the country? Magique Halloween Circus 2015 - a frighteningly fabulous good time!
Magique are the event masters, having staged a myriad of sell-out Halloween, NYE & Easter events in the past. This one is bound to be screamingly good!
A capacity event - get in quick - Click here for info & tickets.

Here's another opportunity to dress up & do good, with one of the most left-of-field fundraising ideas for a medical cause we've come across! For the past 5 years now, the Sydney Zombie Walk has been tempting thousands of zombies out of their basements to drag their rotting limbs across Sydney's streets. Their objective? To infect those fortunate few who have yet to succumb to the latest zombie outbreak. AND to raise vital funds for The Australian Brain Foundation. Click here for info & to register.

Running Scared™ is an after-dark 8km run contaminated with 20+ fear filled freaky obstacles including the popular House of Horrors maze! As you make your way through a challenging course, it's what lurks in the dark shadows that will get your adrenalin pumping... With over 100 live-scare actors trained, pumped and ready to provide a thrilling and unforgettable scare experience, Running Scared is a great night out with friends! Click here for info & to register.
The event is still looking for volunteers so if you want to run for FREE you can register to help out here or call 0477 499 130.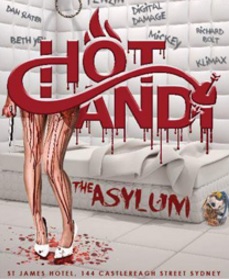 OK, so this one's for the sexy people (yes, YOU!) They don't usually wear a lot of clothes at Hot Kandi parties (!) so they'll be plenty of skin on show for some of the fabulous make-up & special FX you can purchase from Fancy That! Costumes!
With almost 900 people through their doors last Halloween, this year is going to be HUGE! Trishie Dishie knows how to host a mega event, with no expense spared.
Click here for info & tickets.