Bond? There's no excuse for bland!
Author: belinda Date Posted:19 August 2016
So you've got the invitation & the theme is "Bond." Great. Tuxedos & evening gowns. Couldn't they have given me something more interesting to play with?
Well, dear party-goer – as it turns out, they have! Much like every gadget to emerge from Q's lab, there are more creative Bond-theme costume options than first meet the eye. Shall we peep beneath the satin sheets together? Do read on…
"Bond" for Boys
(Firstly – ladies – we're not talking about Pat Rafter in his briefs – sorry 'bout that. Still – do read on…)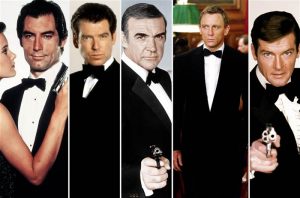 So there's nothing wrong with a man in a slick TUXEDO – nothing wrong with that at all! If that's your thing, Fancy That! Costumes can deck you out top to toe (BYO shoes & boxers). Think sleek, single-breasted jacket, wing-tipped collar shirt with pin-tucked front, trousers, bow tie & cummerbund. And is that a hand-gun in our pocket, or are you just happy to see us? Probably both…
For a quirky twist, reference the opening scenes of Goldfinger where bond emerges from the ocean, strips off his SCUBA SUIT to reveal a crisp tuxedo underneath – split your look half/half between rashie/wetsuit & tux, or add some flippers, scuba mask or snorkel to your tuxedo.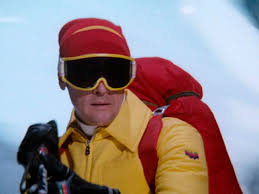 When James isn't in seduction or shooting mode, he loves to hit the slopes – as seen in The Spy who Loved Me & Spectre. Grab your SKI GEAR – but be sure not to break a sweat. Adding a retro touch like a high neck skivvy or even a slightly out of place patterned cravat, reminds us that just because you're currently in hot pursuit of the bad guys, you're still incredibly stylish & ready for anything (especially if it's wearing a skirt).
Speaking of seduction – there are many scenes where Bond isn't wearing very much at all. Or simply boxers, socks & a silk pyjama jacket. Add a fake cigar (was it good for you?) & some manly chest hair (pre Daniel Craig). We're going to call this one POST CONQUEST BOND.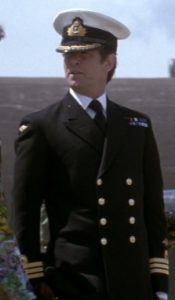 On Her Majesty's Service, Bond can often be seen in a ROYAL NAVY COMMANDER uniform – peaked hat, double breasted navy jacket with gold insignia on the cuffs & of course, a well-decorated chest. Fancy That! Costumes can help – but get in quickly as soon as you receive your invitation – they are in limited supply.
Or if you fancy yourself as a bit of a GADGET GEEK, Q is fun to do – Fancy That! Costumes can supply a lab coat, quirky bow tie & braces. Fill your pockets with pens & deadly weapons posing as everyday items.
TIGER TANAKA could be likened to a Japanese M (see below) in You Only Live Twice. Head of the Japanese Secret Service, he also commands an army of trained ninjas. Dress as a ninja, or in formal Japanese attire.
Now everyone loves a good Bond villain! If you're a tall unit, grab some Grillz (metallic look teeth), some braces & a tousled brown wig from Fancy That! & go as JAWS. NB: A cheeky take on this would be to actually dress as a shark – from a fin on your head or back, to a full shark suit.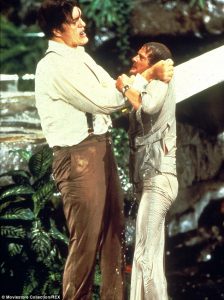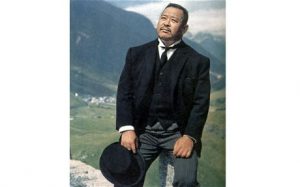 Then there's ODDJOB the evil henchman to Goldfinger - requires a short top-hat (which doubles as a deadly Frisbee - it's made of steel), thin pencil moustache, single breasted jacket & vest, wing-tip shirt with skinny black tie & pinstripe trousers. It helps if you're already Ko rean – but we'll have you looking the part!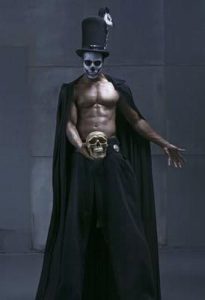 One of our favourite Bond villains is of course, BARON SAMEDI – the visually arresting witchdoctor in Live & Let Die who meets an untimely demise in a pit of writhing vipers. You'll have a lot of fun with this one - top hat, tailcoat, skull & bone necklaces bare chest or black mesh shirt & shrunken head on a stick.
Or you could swap out the tailcoat for one of our handmade feathered animal print capes or a long black satin cape. Don't forget the make-up – black & white, with White-Out Crazy Contact Lenses as a cherry on top.
If you're bald & proud, BLOFELD is a fabulous option (BYO cat). One of our caramel coloured suits & some clever application of Rigid Colloidal Scarring Liquid will do the trick. And if follicles are still your friend, there's always a Bald Cap. A fun & quirky take on this one is Austin Powers as DR EVIL (of course, all the Austin Powers movies parody Bond) – replace the caramel with a shiny silver suit. Don't have one in your wardrobe? Come & see us at Fancy That! Costumes!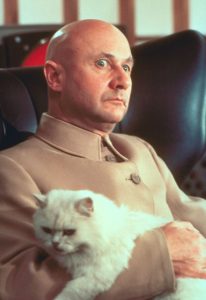 And speaking as Austin Powers, Australia' own Bond - George Lazenby - appears to have been the inspiration for some of Austin's snappy dressing - that frill jabot looks familiar! Add a kilt from Fancy That! to replicate this look from On Her Majesty's Secret Service
Finally, villain Auric GOLDFINGER was obsessed with gold to the point of madness - dress in one of Fancy That! Costumes gold l'ame jackets or gold sequin jackets with plenty of bling, to pay homage to this character.
"Bond" for Girls
Sure, you can dig your best party frock out of the closet, but why not mix it up a little? Bond Girls have NEVER been bland. If you're worried about stealing too much thunder by turning up in a white bikini as HONEY RYDER in Dr No, here are some alternative ideas to inspire: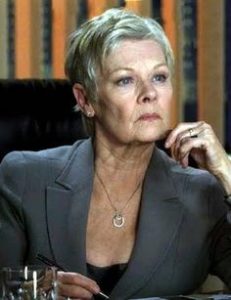 M – always powerful & composed, Judi Dench plays this role to perfection. It's conservative, British power-dressing, with just a hint of sexuality (modest glimpse of cleavage or small skirt split). A shoulder-padded jacket & pencil skirt, plus a tightly cropped blond wig.
MISS MONEYPENNY – M's personal assistant is 100% dedicated to her work & adept at keeping Bond at arm's length with her wit ("Flattery will get you nowhere – but don't stop trying"). It's well know she holds a flame for him though - who could resist? Have fun with this one by going back to the 60s in a go-go dress with boots, a beehive, a more work appropriate neck-scarf & some serious looking, black rimmed glasses.
"James Bond: Who are you? * PUSSY GALORE: My name is Pussy Galore. * James Bond: I must be dreaming." Pussy is no pushover. Head of Pussy Galore's Flying Circus where she leads a team of all-female pilots working for Goldfinger, she attacks bond with Judo & turns him over to the enemy before ultimately switching sides. Have fun with this one by going literal in a catsuit or cat themed accessories, with a blonde bob wig.
From Russia with Love, comes TATIANA ROMANOVA, another high-ranking military officer used to lure Bond into a trap - & ultimately succumb to his charms. Trained as a classical ballerina, she had to give this up for growing 1 inch above regulation height. Have fun with this one in Russian Military, a velvet jumpsuit with cold-weather faux fur hat & muff, or a mash-up of a ballerina tutu & thigh gun holster!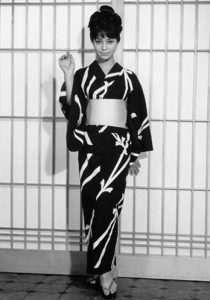 KISSY SUZUKI was Bond's Japanese sidekick in You Only Live Twice. Slip on a kimono for a fun representation of this character.
In Bond's first encounter with FATIMA BLUSH in Never Say Never Again, she's disguised as a nurse & giving a proper thrashing to her US Officer captive, Jack Petachi. Dress as a naughty nurse if you dare, with whip in hand!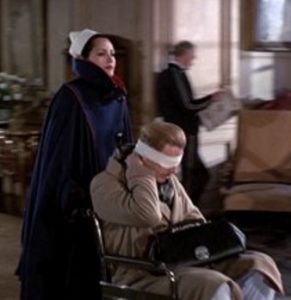 In Thunderball, FIONA VOLPE is the raven haired, leather clad biker chick who finds Bond totally resistible. In fact, she's one of the few women who is still actively trying to kill him as she meets her own untimely demise.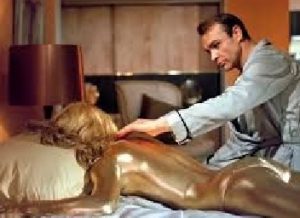 JILL MASTERTON was the secretary of Goldfinger who met her untimely death by asphyxiating after being covered in gold body paint. Choose from any of our gold dresses (from evening gowns to lurex 70s disco numbers) & go to town with gold glitter & body paint.
Jane Seymore played SOLITAIRE in Live & Let Die - a seer with a psychic gift that she will lose unless she remains a virgin (guess how that one ends up). Achieve this look with a virginal white dress (Greco-Roman style), long flowing brown locks, some bohemian jewellery & for a literal effect, a shimmering third eye painted on your forehead with Global Cake Makeup & Glitter FX gel.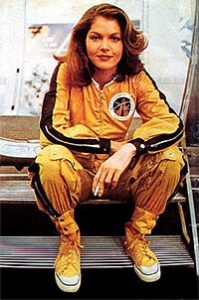 DR HOLLY GOODHEAD - a trained astronaut on secondment from NASA to the CIA in Moonraker, has the pleasure of making love to Bond in zero gravity. She also wears a costume that's strikingly similar to Uma Thurman in Kill Bill - a yellow jumpsuit, with black stripes.
Play on Words with Bond Titles
CASINO ROYALE – boys dress as a croupier or high roller, with Fancy That!'s casino chips jacket, or a slick suit with card suite print braces. Girls can opt for a roulette wheel dress or our full body lycra "Money Suit", covered head to toe in images of dollar bills.
OCTOPUSSY – an octopus, of course!
FROM RUSSIA WITH LOVE – our Russian military camoflague gear for guys
THE SPY WHO LOVED ME – from boys in all black with balaclavas, to girls in go-go dresses, short vinyl trenchcoats, berets & dark wrap glasses.
So there you have it - there is absolutely zero excuse to dress "bland" for your next Bond-themed event! So what ideas have we missed? Jump onto our Facebook page & add your own - we'll update this blog post as they come through.