4th of July Costume Inspiration
Author: belinda Date Posted:16 May 2017
There's more to a Star-Spangled Costume Party
than Captain America & Uncle Sam

!
We've curated a list for you here, broken down into 5 sections:
Political & Military Figures
Superheroes
Wild, Wild West
Pop Culture - Music, TV & Movies
Sports People
Other
This blog is LOADED with ideas, so feel free to scan through the lot, or jump straight to the section that interests you most. Click through on any underlined text to get a visual of the costume (& if it's a purchase item, buy online - nb also available instore). Have an idea we haven't included here? Chances are we can put it together from our vast wardrobe, or source in a purchase item for us - but don't leave it too late! We can generally get next day deliveries, but the longer the lead time, the better. 1. Political & Military Figures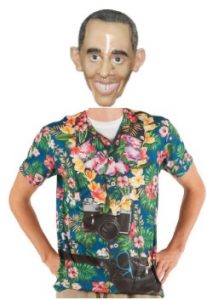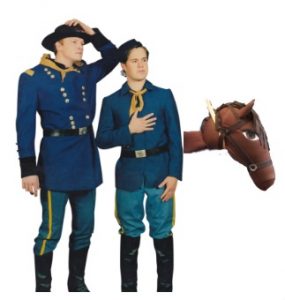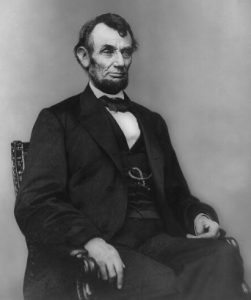 Abraham Lincoln (who would likely be turning in his grave right now) – the 16th US President was very visually distinctive. Plus he abolished slavery. You've got to love him for that alone! Available in our Hire section. We combine top hat, swallow tail mourning coat, vest, bow tie, walking stick & beard to have you looking the part.
Colonel Custer / Civil War Soldier – bring in the cavalry! Vanquish those Southern Confederates in one of our American Civil War hire costumes. Add a wrap around horse head for some extra fun.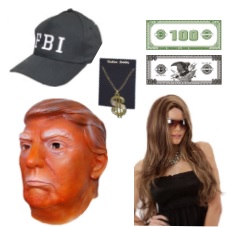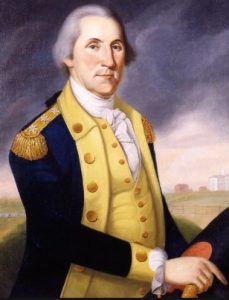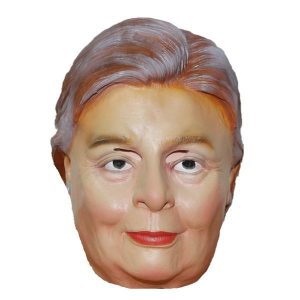 George Washington – another instantly recognisable US president, perfect for the cooler July weather. We can take a little licence here & use our Captain Cook military costume.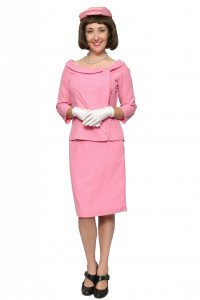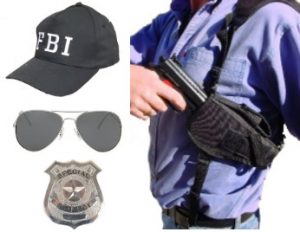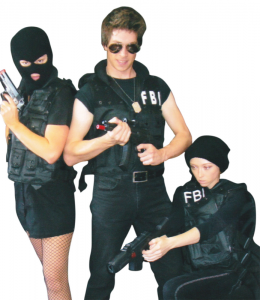 Jackie Kennedy & JFK – channel American political royalty in this couples option. Pair our hire only Jackie Kennedy costume with a man in conservative suit, plus bullet wounds. Politically correct? No. Historically accurate? Yes.
James Comey / FBI – quite the topic of the moment. Buy the cap & accessories or take advantage of our brilliant value FBI hire option
A note on full face-covering latex masks: Worried you won't be able to eat or drink all night? Make your entrance, then stuff the mask with paper or bubble wrap & wear it as a "bobble-head" for the rest of the night. Stay in character AND enjoy the gourmet spread on offer. Brilliant.
2. Wild, Wild West
Pay homage to the original inhabitants or step back to where it all began for white Americans, with prairies full of Cowboys plus salubrious establishments housing Saloon Girls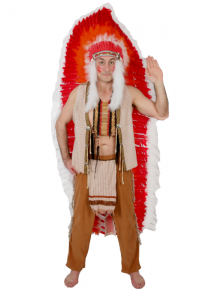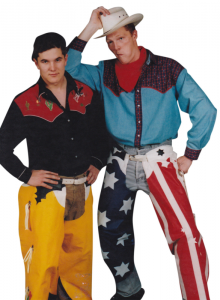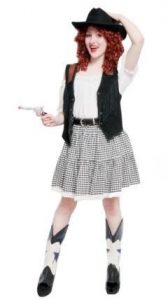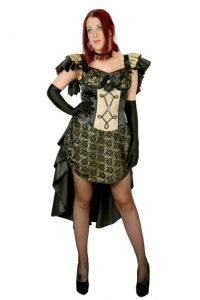 Cowgirl / Annie Oakley – Annie get your gun - America's first female sharp shooter! Can you split a playing card in two at 30 paces, or shoot a cigarette from your husband's lips (smoking will kill him anyway)? Or maybe boot scooting or rounding up cattle is more your style? Again - don't forget Jessie from Toy Story!
3. Superheroes
You could argue that the majority of superheroes to emerge from a Hollywood studio are American, however these are the most iconic & hand-on-heart representative of the U.S. of A: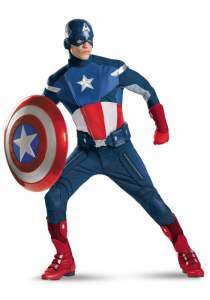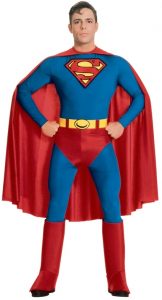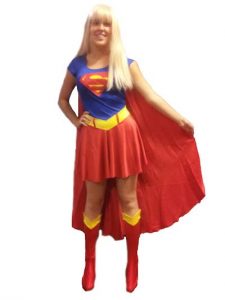 5. Pop Culture Icons
Wow - here's where your choices really open up! Music
Guns n Roses - Axl Rose is a clear favourite with his iconic U.S. flag bandana
Brittney Spears - as a Ringmaster from her Circus video; Air Hostess from Poison; schoolgirl from Whoops I Did it Again
Cyndi Lauper - our hire costumes are perfect if you just wanna have fun!
Janis Joplin - we can put together an iconic hippie look from our hire range to create this legend
Jimmi Hendrix - purchase this costume or allow us to bring the legend to life with a few rockstar tweaks to our Adam Ant costume (yep - guess where he got the idea for the military jacket?)
Katy Perry - this Candyland inspired look is available to hire
Sonny & Cher - dive into our hire or purchase sections, with loads of mix & match options for 60s/70s Sonny & Cher
Tina & Ike Turner - it's leopard print all the way for Tina, plus tight flares & a fro for Ike - loads of mix & match options in hire, or purchase this likely number
TV & Movies
Brady Bunch – Carol, Marsha, Greg, Bobby, Peter, Cindy - one day, this lady met this fella & they both had truly tragic dress sense. Fortunately, so do we! Options available to both hire or buy.
Dolly Parton & Kenny Rogers - Islands in the stream... how could they be wrong? That's right - they CAN'T - they're AWESOME! Jump upstairs to our hire floor for both of these & we'll have you country crooning in no time
Happy Days - the Fonz, Joanie, Potsie & Richie - head upstairs to hire & we'll kit you out
Hugh Hefner & a Playboy Bunny - options in both hire & sales
Judy Garland – Dorothy (Wizard of Oz)
Kim Kardashian - hello bad taste. We've got the fake butt, fake boobs, fake hair. You supply the body oil & the champagne flute!
6. Sports People
Joe Dimaggio - Baseball player - a great couples costume when paired with Marilyn!
Grid Iron Players – an option for girls & guys! Great with a cheerleader by your side
Venus or Serena Williams – your best tennis gear plus a beaded plait wig from us.
7. Other
Prom Queen / Beauty Pageant Contestant – our 80s prom dresses are just perfect for this look! And c'mon guys – you can get in on this one too!
By this stage, you've either found the one, or you're completely overwhelmed. The good news? We can help! Call us or swing by to discuss your event & we'll get you sorted in no time!